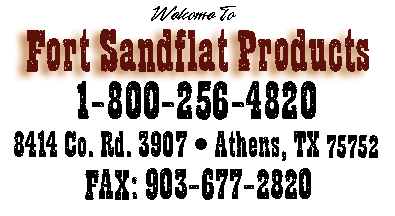 E-Mail
Custom Orders Welcome/How to Order/Dealers Near You
ALL ITEM NAMES ARE IN GREEN, know your item name when calling.
---
Custom Large Display Cases

Oak w/Fruitwood Stain
I can build you a custom display case to display long-guns, pistols, swords, crossbows, bats, golf clubs or just about anything you might wish to display. Size is limited only to UPS size restrictions.
Cases can be whatever depth required. All hangers are custom-made to fit item to be displayed. Cases can be made from a choice of over 28 species of wood. You also have a wide choice of background materials, from velveteen, various cloth materials, premium ultra suede to leather in a wide array of colors. Unlimited choices in lazer engraving and name plates are available.
Cases are made from 3/4" solid wood. Joints are glued, screwed and doweled. The back is solid 1/2" plywood for stability which is covered with the background material of your choice. The plywood back also provides a solid surface on which to attach the custom display hangers from the back. Custom moulding covers the entire outside back edge of case adding more stability and detail appearance as well as covering all plywood edges and the hang board. Every case comes with a built-in hang board, making locating, leveling and hanging case on wall extremely easy and safe. The double-strength glass door frame is mitered with bisquit joinery. Doors are attached from top, bottom or side, with continuous brass piano hinges. Doors are latched with friction catches. Cases can be lighted.
After you hang these cases on the wall, you see no hardware, just displayed item and case.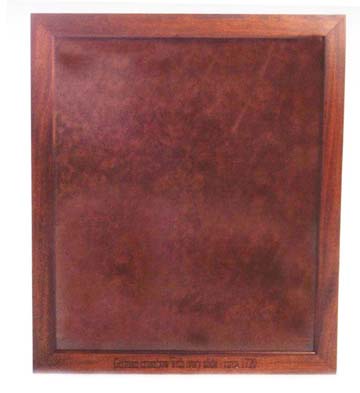 Mahogany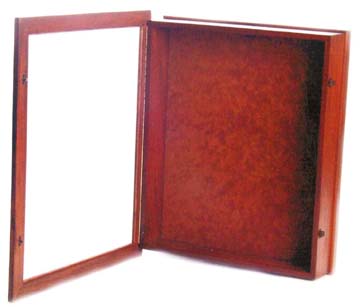 Mahogany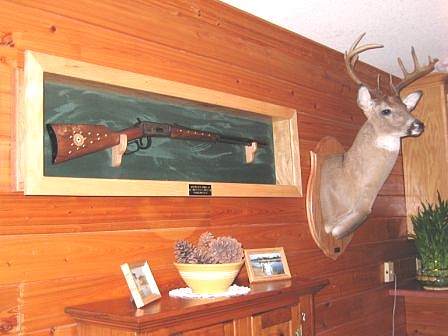 Native Texas Pecan w/Tung Oil Finish
Give me a call 1-800-256-4820 or e-mail and let me design and build you a custom display case for your special item. Also, I custom-make solid wood top presentation cases in any size for smaller items like knives, pistols and other collectibles. These cases can have french fitting included (interior depression the shape of displayed item).
---
Custom French-Fitted Presentation Cases
Also available are custom made solid wood top and glass top presentation cases in any size for smaller items like pistols, knives and other collectibles. These cases have French fitting included (interior depression the shape of displayed item).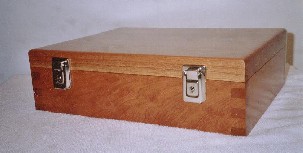 Cherry Presentation Case
Cherry Stain + Tung Oil. + Blue Veleteen + Silver Keyed Locks and Mortised Silver Hinges.
.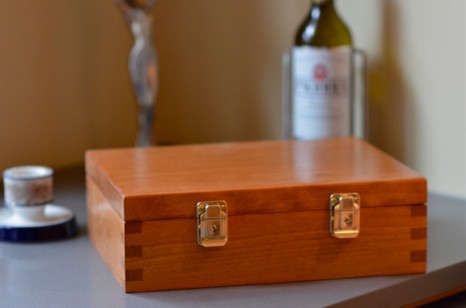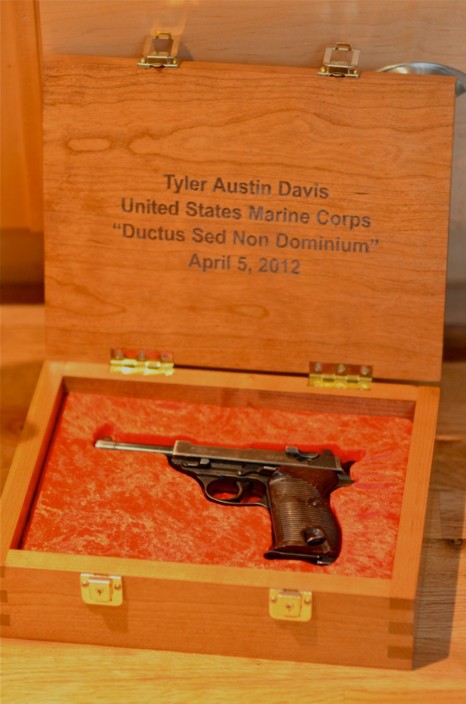 Cherry stain & tung oil + red velveteen + brass keyed locks & brass mortised hinges.
---
The French fitted display case shown below is an example of what we can do for you. This case was built from solid Black Walnut and displayed a French fitted black powder revolver, a badge and bullets. The backing material was dark blue velveteen. The hardware included brass keyed locks and mortised brass hinges. The case top, a full 1" thick, exhibited a military emblem on outside and extensive laser engraving and military emblems on the under side. The corner joinery was exposed finger joints. It was presented to a retiring military officer.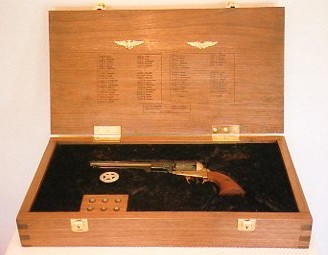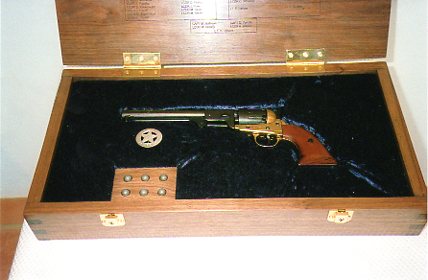 Call, fax or e-mail with your requests for custom presentation cases.
---
Custom Orders Welcome/How to Order/Dealers Near You
---
Click on a button to find more information on the product you're interested in:
| | | | | | |
| --- | --- | --- | --- | --- | --- |
| | | | | | |