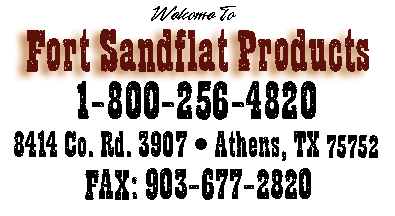 ATTENTION:
ALL ITEM NAMES ARE IN GREEN. PLEASE KNOW YOUR ITEM NAME WHEN CALLING, E-MAILING OR FAXING.
HOW TO PLACE AN ORDER:
E-MAIL: gunstands@aol.com (not a secure site.)
FAX: 903-677-2820 (straight to my desk only.)
PHONE: (toll free) 1-800-256-4820.
MAIL: 8414 Co. Rd. 3907, ATHENS, TX 75752
E-Mail
Custom Orders Welcome/How to Order/Dealers Near You
---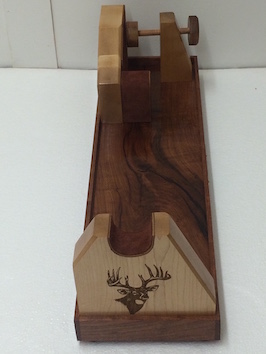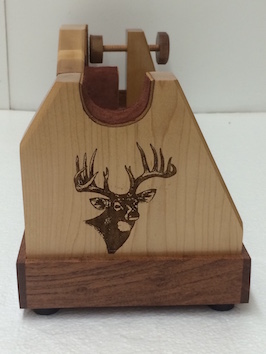 The Original Fort Sandflat Gun Vise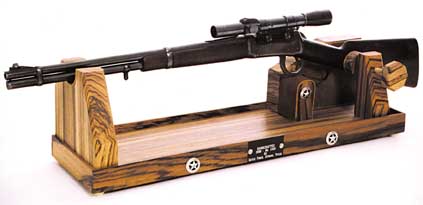 Right-Hand Zebra with 3 Cupped & Carved Silver 1/2 Dollars (Resemble Famous Texas Ranger Badges)
---
" I received my vise in Zebra wood. I love it. The grain in the wood is beautiful and the craftsmanship is top notch. I have a couple of scopes and red dots waiting to be mounted. I can't wait to use the new vise. Thank you for a great product." - Dave, River Falls, WI

---
" I want to thank you for the Zebra wood gun vise. It was awesome. Now my problem is I would like another one. Since the last one was right handed, I would like a left handed one now. I would like it to be just like the other one with same name plate. "

- Lothar, Enforcement Firearms, FL

---
Right-Hand Black Walnut

---
"Gayle, the Gun Vise arrived today

(left-handed Black Walnut)

- Perfect - Absolutely Gorgeous...Your vise alone MAKES the room - even standing alone. EXCELLENT, Excellent, excellent. Thank You"

- Rich, Yucca Valley, CA

---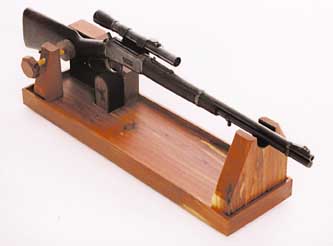 Left-Hand Aromatic Red Cedar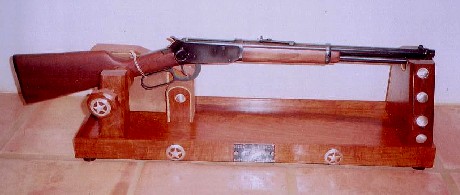 Left-Hand NativeTexas Mesquite with Indian Head/Buffalo Nickels and Cupped & Carved Silver Dollars
The Original Fort Sandflat Gun Vise
---
Custom Orders Welcome/How to Order/Dealers Near You
---
An individually handcrafted solid wood vise used for safe and easy rifle sighting, cleaning, scope mounting, sight installation, bore sighting, repairs, glass bedding, bluing, sling swivel installation, checkering, engraving, stock in letting, display & general maintenance.
An exceptional tool for bore sighting bolt-action rifles. This feature alone can save considerable sums of money on ammunition during the sighting process.
Excellent method to prominently display your favorite shot, rifle, black powder, antique or commemorative weapon at home (den, game room, fireplace mantle or wall), office, gun shop or commercial exhibit. Four soft rubber feet prevent the vise from skidding and sliding or marring furniture surfaces when used for display.
An adjustable wood clamp fits and holds stocks of variable length and widths. All contact points are covered with soft tanned leather to protect your favorite weapon. Long-guns and pistols fit equally well. Mount your weapon upright; upside-down; move it to the left, right, up or down, or even rest the stock in the barrel rest and clamp the barrel. You can mount your weapon in any position necessary to do whatever you can dream up to do to a long-gun or pistol,
The solid wood base, mounted on non-skid rubber feet, is surrounded by a raised lip to form a convenient parts and tool tray.
Right and left-hand models are available as well as wide mouth bench rest models for competitive shooters. Choose from light or dark stained hand-rubbed tung oil/polyurethane finishes.
Vises are constructed from twenty eight wood species including yellow pine, ponderosa pine, poplar, black walnut, magnolia, mahogany, oak, cherry, ash or mesquite. a FORT SANDFLAT GUN VISE can be custom-constructed from any available species of wood. You name it - and we'll build it. Various decorations of Indian head/buffalo nickels, wood carvings, decorative nails, animal discs and conchos are available. Your ideas for custom orders welcome.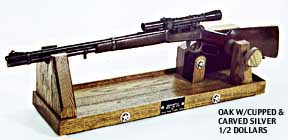 All vises are unconditionally guaranteed against defective workmanship. Should your FORT SANDFLAT GUN VISE ever "bust or break", simply return it to be repaired or replaced and returned without cost or questions.
Each vise, except yellow pine, comes with a signed and dated name plate which prominently displays the owner's name and the vise's individual serial number. The serial number is also permanently imprinted into the bottom of the vise base.
FORT SANDFLAT GUN VISES can be delivered to your front door by UPS for a total delivery cost per vise of $23.28. Payment can be made by cash, money order, personal check, VISA or MasterCard. For orders or information, call toll-free 1-800-256-4820.
FORT SANDFLAT GUN VISES are given as gifts for a variety of occasions such as: Birthday, Christmas, Father's Day, Anniversaries & Retirements. They also make excellent personalized gifts or awards for peace officers, wildlife or outdoor recreation organizations and gun clubs.
The first FORT SANDFLAT GUN VISE was built in 1988. Almost twenty-five hundred have been custom-crafted for hunters, gun dealers, gun collectors, competitive shooters, professional gunsmiths, hunter safety education instructors and individual gun enthusiasts in all fifty States and numerous other countries.
---
" Gayle, just a note to let you know how much I love my vise (#2573 in Oak) ! I use it for all my firearms now (the old plastic one has gone the way of the yard sale) . I have recommended your website to all my friends who own guns. Thanks again for a one-of-a-kind product ! "- - John, Idaho Falls, Idaho
---
Thanks Gayle. The vise arrived today in good shape. Look forward to doing business again. -- W. Downer, Oxford, KS
---
PRICE SCHEDULE

BASIC GUN VISE
*Yellow Pine
$85.00
Ponderosa Pine
95.00
Magnolia
95.00
Poplar
95.00
Cypress
95.00
Aromatic Red Cedar
105.00
Oak
105.00
Ash
105.00
Mahogany
115.00
Cherry
115.00
Black Walnut
130.00
Birch
115.00
Maple
115.00
White Oak
115.00
Native Texas Pecan
144.00
Fiddle Back Sycamore
115.00
Native Texas Mesquite
154.00
Texas Blackjack Oak
176.00
Texas Live Oak
176.00
Texas Feathered Savannah Oak
143.00
Texas Barnwood
126.00
Paduk
130.00
Texas Bois D'Arc
155.00
Purple Heart
175.00
Zebra Wood
201.00
Bubinga
201.00
*No name plate or Serial Number

Texas Orders-Add 6-1/4% Sales Tax Also

DECORATIONS

Nails (17 arranged around base)
Small Brass
$2.00
Brass Wrought
5.00
Black Wrought
5.00
Antique Brass
5.00
Brass Trunk
5.00
Silver Trunk
5.00
Brass Cone
5.00
Copper
5.00

LASER ENGRAVING
(Deer, Elk, Turkey, Duck, Quail, Geese, etc.)



On Handle or Trigger
$9.00
On barrel rest
21.00

OTHER DECORATIONS

Silver Dimes
2.00 ea.
Silver Half Dollar/Star
15.00 ea.
Indian Head/Buffalo Nickels
4.00 ea.

Shipping & Pkg.

One Vise: $27.17

Two Vises: $41.72

Texas Orders-Add 6-1/4% Sales Tax Also
| | | |
| --- | --- | --- |
| NATIVE TEXAS BLACKJACK OAK- RIGHT HAND | CYPRESS W/ROUND TOP NAILS- LEFT HAND | YELLOW PINE- LEFT HAND |
| CHERRY- LEFT HAND | NATIVE TEXAS MESQUITE- RIGHT HAND | ELM W/GOLD-PLATED INDIAN HEAD NICKELS. ONE-OF-A-KIND- RIGHT HAND |
| BUBINGA W/CUPPED & CARVED SILVER 1/2 DOLLARS & QUARTERS - ONE-OF-A-KIND #1500- RIGHT HAND | BACK VIEW | END VIEW |
---
I bought my gun vise from you on August 9, 1993. It was one of my better investments. I have used it many times and not only is it functional but very nice looking. It may have been one of your earlier ones because the number on plaque is in the early 400s. So often, we hear of products that do not meet expectations but when one does we do not hear the feedback. I want y'all to know you make a quality product and I am very happy to own one. - - Jack M., Snata Fe, NM
---
Fort Sandflat Pistol Vise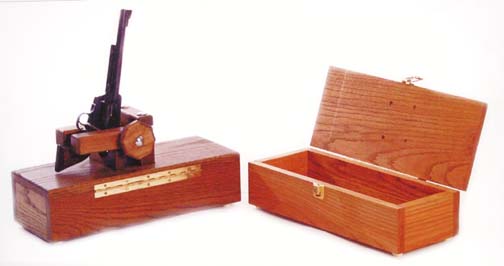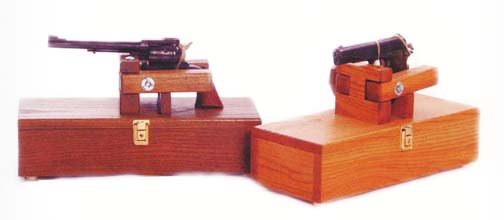 A handcrafted solid wood vise designed specifically for pistols. Pistols can be placed in a variety of positions for safe cleaning, repairs and maintenance. Four non-skid soft rubber feet prevent the vise from sliding or marring furniture surfaces.
The vise base is a sturdy 4-3/8" X 7" X 18" case with a brass keyed lock top with continuous brass piano hinge. The base can serve as storage for pistols, ammo, cleaning supplies, etc.
The vise "jaws" are easily adjusted by a large handle and are lined with leather to protect your pistols. Overall height is 8-1/2". Approximate weight is 7 lbs.
PISTOL VISE PRICING

WOOD SPECIES

COST

Oak

$83.24

Cherry

$91.48

Mahogany

$99.32

Black Walnut

$112.56

Native Texas Mesquite

$128.54


Shipping & Packaging: $20.69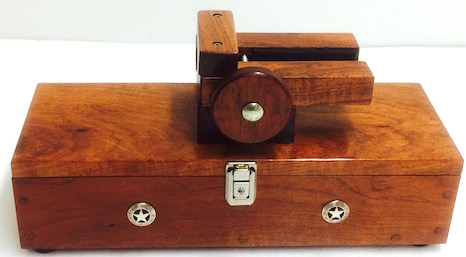 Native Texas Mesquite w/ Salem Maple Stain + Tung Oil & Two Silver Quarter Stars


DECORATIONS

Silver Half Dollar Stars

$15.00 ea.

Silver Quarter Stars

$10.00 ea.

Standing Liberty Quarters

$8.00 ea.

Indian Hd./Buffalo Nickels

$4.00 ea.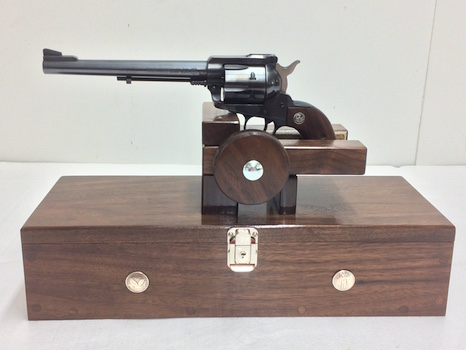 Black Walnut w/ Black Walnut Stain + Tung Oil & Two Standing Liberty Quarters (both sides showing)



---

Mr. Shooter Rifle & Pistol Shooting Stand
Shoot your rifle or pistol as if it were in a vise! Build confidence in yourself and your pistol by shooting them off "MR. Shooter". No more sandbags!
Introduced in 1984, "Mr Shooter" is an accuracy tool every hunter should own.
Constructed of tough, lightweight, rust-resistant 1" tubular steel, the ridgid and stable "Mr. Shooter" weighs only 4 lbs. 6 oz. The vinyl-coated rest and yoke adjusts vertically and horozintally and locks in place. "Mr. Shooter" fits all rifles and most pistols and is a great tool not only for sighting, but for cleaning and scope mounting.
Make accuracy easy to achieve with your own "Mr. Shooter".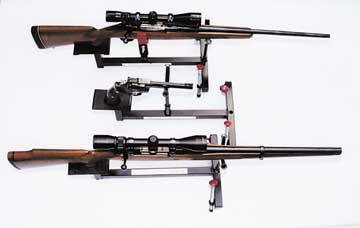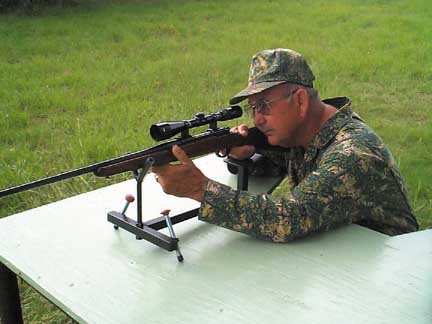 No More Sandbags
Weighs only about 4lbs. 6oz.
Rifles
Pistols
Pattern your Turkey Gun
Made Since 1984
Clamp your rifle while you work bore sight, clean, etc.
Made of 1" Square Tubing
Padded to protect firearm
Complete Instructions for Use With Each Order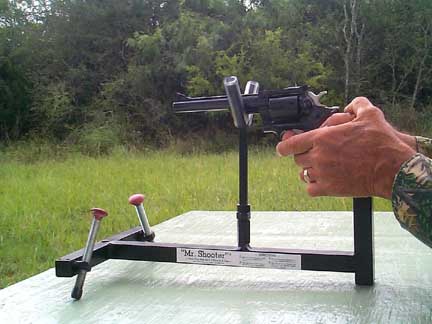 PRICE SCHEDULE

Clamp only

$32.95

Rifle & Pistol Rest

$69.95

Rifle Rest Only

$56.95

Shipping & Pkg. $10.95 ea.

(Shipped Parcel Post)
E-Mail
How to Order/Dealers Near You
---
Click on a button to find more information on the product you're interested in: