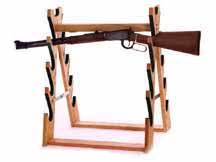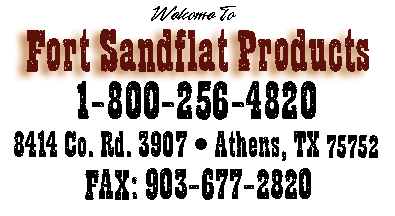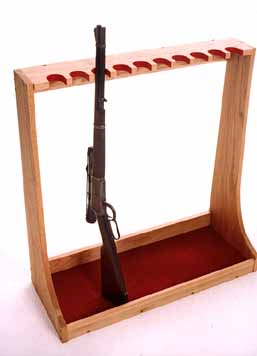 "STORING AND DISPLAYING AMERICA'S GUNS, RODS AND KNIVES SINCE 1984"
Like us on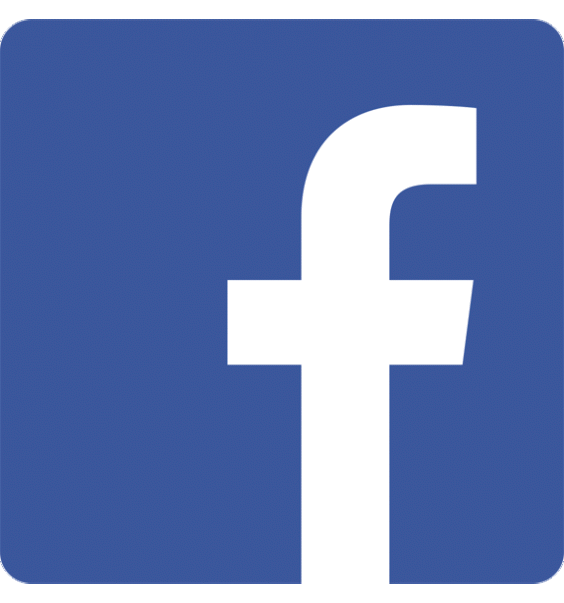 Facebook!
ATTENTION: IF YOU HAVE RECENTLY VISITED THIS SITE, PLEASE REFRESH YOUR BROWSER, AS WE HAVE UPDATED SEVERAL ITEMS. THANKS.
HOW TO ORDER
FIRST - - - Know name of item(s) you wish to order or on which you need additional information.
All item names are shown in bold

green

.

NEXT --- The quickest, safest and most accurate way to place an order is to call:
1.903.677.2820 or 1.800.256.4820
MAIL ORDER TO: Fort Sandflat Products, 8414 CR 3907, Athens, TX 75752.
Be sure to include your phone number where we can read it.
Only one person will ever see your info
or
E-MAIL TO : gunstands@aol.com
(Would suggest you NOT include your credit card info.)
HOW TO PAY
We honor Visa, MasterCard, Discover, Personal Checks, Business Checks or Money Orders.
Make Checks & Money Orders Payable To: FORT SANDFLAT PRODUCTS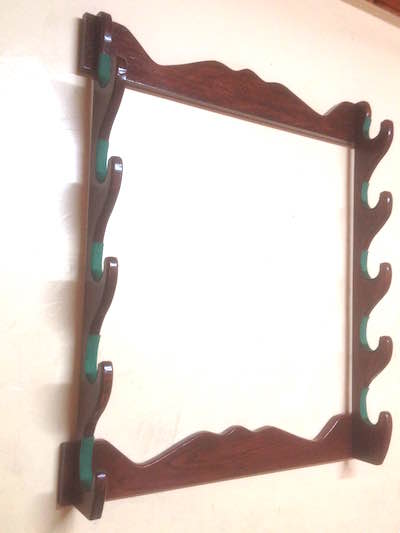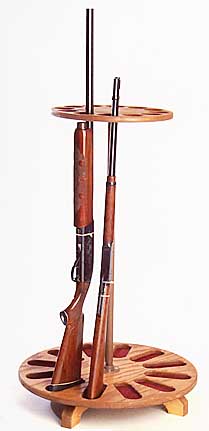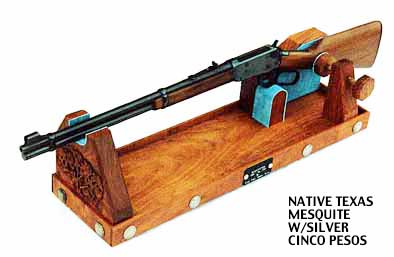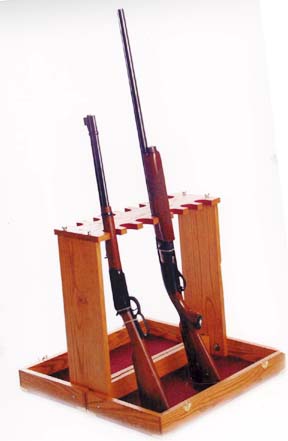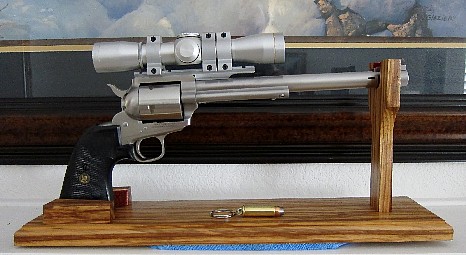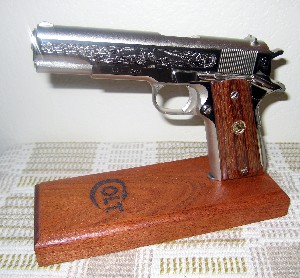 "America's Most Copied Gun Display & Storage Products"
Welcome to WOOD-N-STUF (est.1984), manufacturers and distributors of FORT SANDFLAT PRODUCTS.
Owned and operated by 3rd generation native Texans.

WE WELCOME CUSTOM ORDERS -
NO JOB TOO LARGE OR TOO SMALL!


Our original product is the FORT SANDFLAT GUN VISE (over 2,600 made and shipped). Other old time items include folding vertical and horizontal long-gun display stands,various pistol stands, rotary long-gun stands, numerous table top 3-piece long-gun stands and the ever popular flat back vertical long-gun stands for gun rooms, large safes and stores. Gun collectors love this vertical stand with its many available options. Other popular items include a glass top and solid top French fitted presentation cases for both handguns and long-guns. Numerous display and storage stands are now available for fishermen and knife enthusiasts. Recent product introductions include commercial long-gun stands, ammo display cabinets and glass top / glass front retail display cases for retail gun stores and pawn shops.
Custom orders continue to be an important part of our business. We custom design and build all kinds of display and storage pieces for long-guns, pistols, gun barrels, scopes, knives, caps, hats, boots, crossbows, musical instruments, etc.
Although our primary business continues to be retail sales to the end user, we also serve large and small retail stores, government agencies, museums, shooting sport clubs and large commercial companies.
We offer a wholesale program to valid retail store front outlets. Those interested in wholesale purchases should supply a copy of their retail sales permit when requesting a copy of our wholesale program. Minimum first order is $1,200.00 after discounts plus actual S&Pkg.


| | |
| --- | --- |
| | |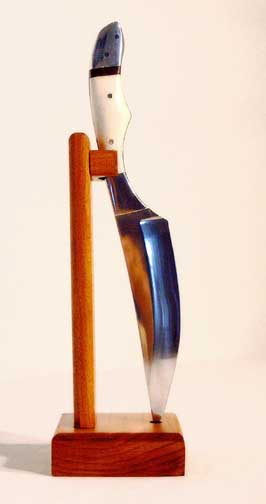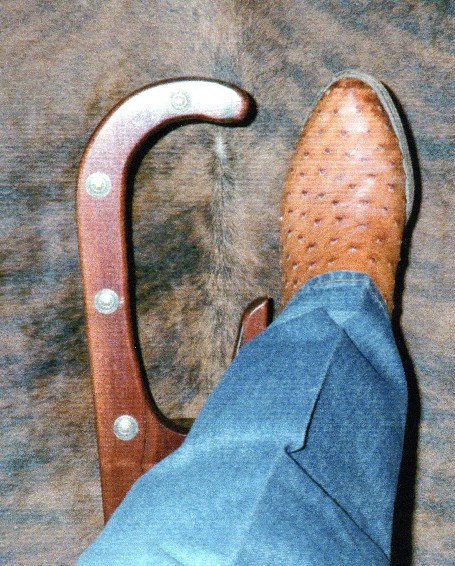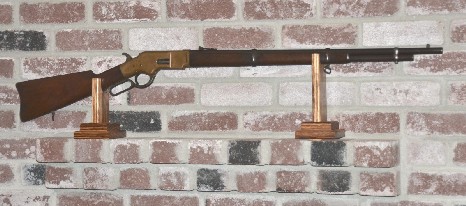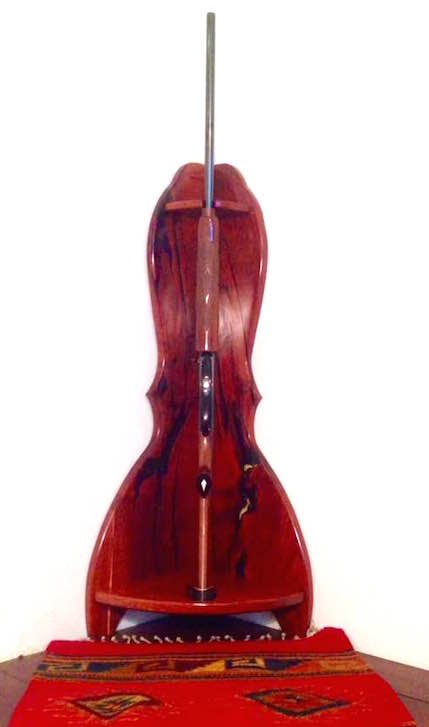 NOW AVAILABLE
Custom Racks for Gun Shops, Sporting Goods Stores, Shooting Ranges, etc.

Made to fit your requirements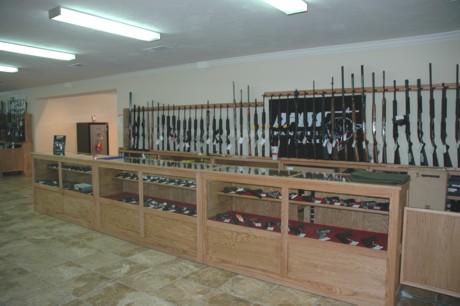 Click Here for complete info.


NEW! GIFT CERTIFICATES NOW AVAILABLE!

Click on a button to find more information on the product you're interested in:

















We have NO printed materials to send out. No Catalogs / No Brochures. ALL INFORMATION IS ON THIS WEB SITE. Should you have any questions, E-Mail us at: gunstands@aol.com or Call us at: 1-800-256-4820 Thanks.
Call or E-Mail to purchase a Gift Certificate in any dollar amount.
We will issue your certificate to be redeemed within 6 months of issue date.
Make someone's Christmas, Birthday, Anniversary, Father's Day or Retirement special!
Give them a FORT SANDFLAT PRODUCTS Gift Certificate!

DR. ED KEMP EXHIBIT, 2009 MARYLAND ARMS COLLECTOR'S ANTIQUE SHOW
E-Mail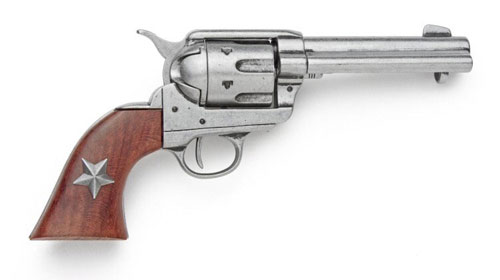 NEW! REPLICA GUNS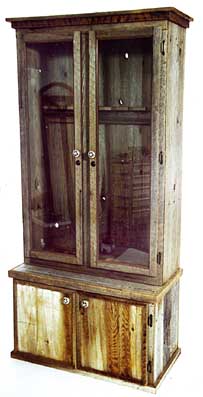 ---
Custom Orders Welcome/How to Order/Dealers Near You
E-Mail
---
Links to Other Related Sites:
www.pipm1.org
CZ-USA.com
WINCHESTER COLLECTORS ASSOCIATION
www.georgemadis.com
www.rusticforless.com

---